Boxing
Manny Pacquiao Can't Allow Trainer's Beef to Distract Him
Manny "Pac-Man" Pacquiao has enough to worry about. He can't afford to be sidetracked and distracted by his trainer's ego and beef with Brandon Rios' camp.
Pacquiao's Hall of Fame trainer Freddie Roach got into a verbal and physical altercation with Rios' trainer Robert Garcia and his strength and conditioning coach, Alex Ariza.
The confrontation between Roach and Garcia was verbal, but Ariza—whom Roach has a sorted history with—actually kicked the trainer in the chest during the scrum.
Coming off a devastating loss and a near 12-month layoff, Pacquiao's primary focus heading into Saturday night's bout in Macao, China has to be his opponent.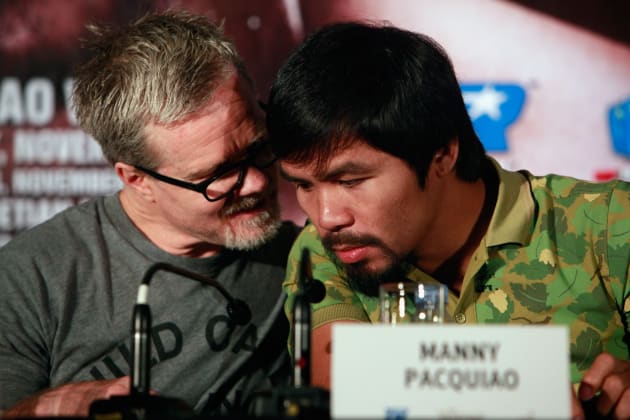 From the standpoint of physical talent, Pacquiao should have Rios outclassed. He's quicker, more agile and he throws punches from more angles. The physical aspects are only one part of the equation, though.
Whether he admits it or not, there has to be some sense of doubt in Pacquiao's mind after suffering the KO defeat to Juan Manuel Marquez in Dec. 2012.
Pacquiao has lost fights before; he'd even been beaten by KO, but he' never been separated from consciousness and left lying in the ring the way he was against Marquez. Even the strongest willed fighter would have some reservations about their ability to bounce back from a loss like that.
As Pacquiao is attempting to mentally prepare for the fight, a horrible typhoon hit his homeland as well. He has since vowed to train and win for the people of the Philippines, per ESPN.
With so much already on Pacquiao's mind, it was pretty selfish and unprofessional for Roach to seemingly instigate this melee. To compound matters, Roach told ESPN that Pacquiao would avenge his trainer being kicked in the chest by Ariza during the scrape.
How many battles does Pacquiao have to fight on Saturday?
He's already saddled with fighting for the very existence of his career after two-straight losses. There is no doubt he'll carry a heavy heart into the ring for his countrymen affected by the storm.
Now Roach is seemingly burdening him with the weight of avenging his honor. There comes a time when we simply have to tune out even those closest to us in order to accomplish a goal. Pacquiao is in that position right now with his trainer.
He must disregard anything Roach does or says that isn't related to in-ring strategy so that he can take care of business on Saturday night.