Boxing
Perfect timing as fan auctions off autographed Pacquiao gloves for typhoon survivors
Bidding started at P5,000. As of last bid on Monday evening, the gloves were going for Php17,000.
"I prayed he would win because it will be a big boost to our countrymen's morale, especially those who were affected by the typhoon. Also, it means we'll get better bids."
Manny Pacquiao's victory over Brandon Rios on Sunday came like an answered prayer for a Pacman fan who is now auctioning off an autographed pair of the boxing icon's gloves for the benefit of Typhoon Yolanda survivors.
The gloves' owner, Janelle Pacete, a human capital consultant, has put up the sports memorabilia up for auction on her Facebook account last Sunday.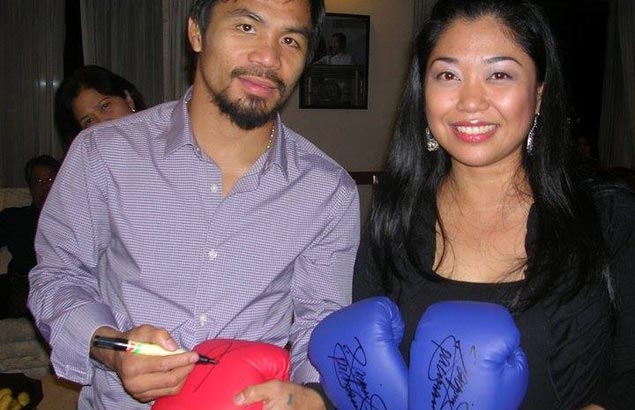 In an interview with Spin.ph, Janelle said she bought the gloves a couple of years ago precisely to raise funds for charity but was unable to sell them at the time.
"I bought them specifically to be sold/auctioned-off to raise funds for Victory Caravan (the medical outreach team of her church, Victory Christian Fellowship). At that time, the auction wasn't really pushed well so this wasn't sold," she said.
Due to the lukewarm reception from bidders, she decided not to sell the gloves after Pacquiao lost consecutive bouts against Timothy Bradley and Juan Manuel Marquez.
"We couldn't sell it after, especially after Manny lost a couple of fights. Before this last fight, my friend asked if we could auction it again. I said now is the best time."
With Pacquiao's masterful performance against Rios, the timing is perfect for the auction.
Bidding started at P5,000. As of last bid on Monday evening, the gloves were going for Php17,000. The auction ends on Tuesday evening.
Janelle said all of the proceeds would go to funding Health Professional Volunteers, a group of volunteer medical practitionersmostly from the Victory Christian Fellowship churches.
"The group usually partners with Operation Blessing for relief and medical missions especially after calamities. I had the chance to go with them to Iligan and Cagayan de Oro after Sendong. I will be joining them again on December 17-20 hopefully in Tacloban," she said.
The world's only eight-division world champion signed the gloves on the day he came back from the US after his successful fight with Antonio Margarito.
"I know the family of his business manager, Mr. Eric Pineda. They let me tag along with them during Manny's homecoming celebration at MOA and well after that when we went to New World Hotel in Makati for a celebratory dinner for Congressman Pacquiao."
Janelle said they went to Pacquiao's suite, which she remembered, was decorated with various photos of the legendary Filipino boxer in his previous fights. She also got to meet his wife, Jinkee.
"They were extremely nice. Much nicer and kinder than what others would give them credit for," Janelle recalled.
But in light of Pacquiao's previous setbacks with Bradley and Marquez that brought doubst to his boxing career, Janelle even thought of just giving the gloves away since she could not get a good price for them.
"I've been wondering all this time how I could promote those gloves so they could sell. We always need funds for medical missions anyway, but I felt that we won't get a good amount if I sold them then," she recounted.
"I even thought of giving them away to a missionary who is a huge fan of Manny. But we are in a time of need for the victims of Typhoon Yolanda and Pacquiao's win brought his career back to its true glory so it all works out. I'm grateful for Mr. and Mrs. Pineda and of course, Cong. Manny Pacquiao because we can now raise more funds to help our beloved kababayans."