Boxing
Manny Pacquiao's Improved Boxing Skills Will Help Keep Champ Relevant
Pac-Man's punches do not have the same crippling effect they once did.
Over the course of his storied career, Manny Pacquiao has never been content. He's always been searching for more. This has led him to being the only boxer to ever win titles in eight different weight divisions. This also led to him adding a powerful right hand to go with his menacing left, even though he was already a proven champion.
Now, it has led to him becoming a skilled boxer instead of a fear-inducing puncher.
After his unanimous-decision victory over Timothy Bradley this past Saturday, I wrote that Pacquiao has lost the raw and seemingly inhuman power to destroy opponents. The evidence is fairly clear. Pac-Man hasn't had a stoppage victory since Miguel Cotto in late 2009.
Pac-Man's punches do not have the same crippling effect they once did.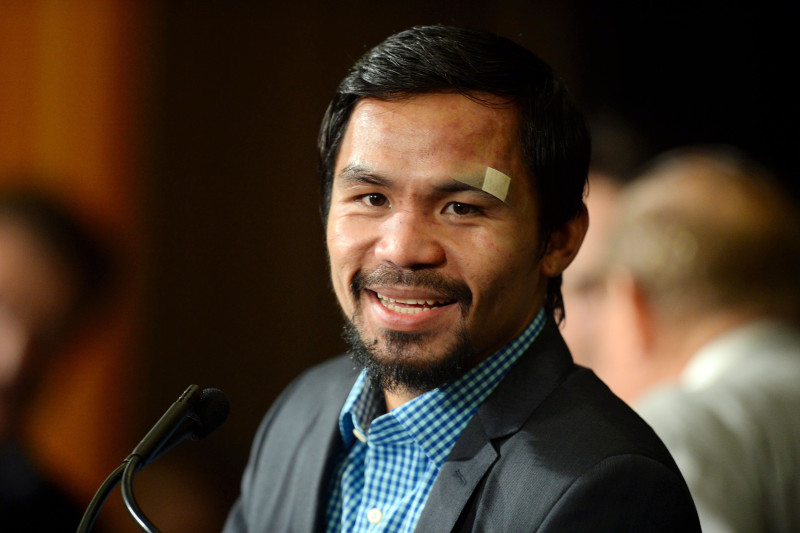 Yahoo Sports' Kevin Iole passed along this quote from Top Rank vice president Carl Moretti: "He's still a top fighter pound-for-pound, and it's pretty clear the legs are still there, but obviously, you have to wonder where the punching power has gone."
This opinion appears to have boxing fans split. Many agree with the sentiment, and some feel his lack of knockouts is due to the way opponents are fighting him. The greatest evidence that Pac-Man's power has diminished comes from Pacquiao himself. It is in the way he fights.
He is no longer constantly hunting for the knockout. He is now measuring his opportunities and not putting himself in harm's way as often. The Bradley fight is a great example. Bradley, who was previously undefeated, is renowned for his boxing skills. He was out boxed by Pacquiao, however.
Pacquiao's trainer Freddie Roach offered up this frank assessment of Pacquiao, via Roy Luarca of the Philippine Daily Inquirer, "I'm satisfied. He did well."
No one is going to mistake Pac-Man's style for the defensive genius of Floyd Mayweather, but the Filipino congressman is using his speed to his advantage on offense and defense.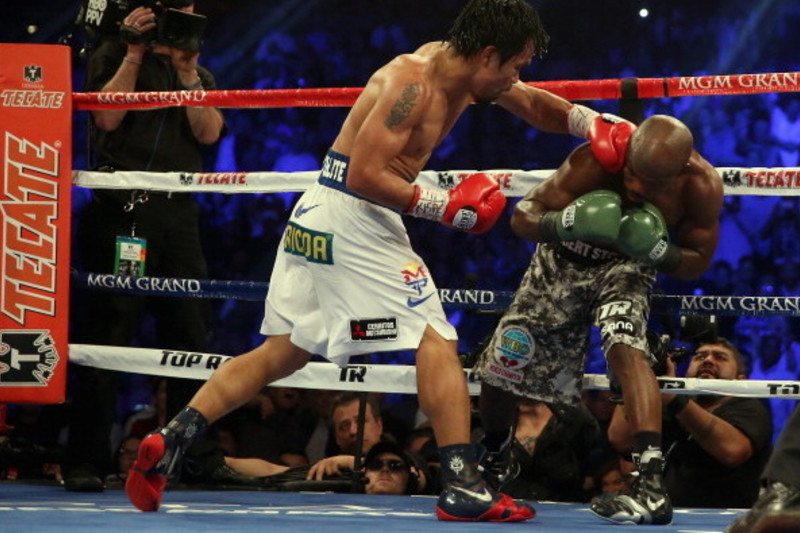 Honestly, this progression doesn't make much sense. At 35 and a veteran of over 60 professional fights, it would be far more commonplace for Pacquiao to have lost more of his speed than his power, but as we saw in his fight with Bradley, Pac-Man still has dizzying speed. We can also see that speed in his fight against Rios:
Pac-Man's ability to play to his strengths have always served him well, and it will continue to do so.
A year ago, Pacquiao had dropped two straight fights. One a controversial split-decision loss to Bradley, another a viscous knockout to Juan Manuel Marquez. At that point, his popularity and earning power were teetering on the abyss.
He got back to his winning ways with a fairly boring yet thoroughly convincing win over Brandon Rios, and then he got revenge with Bradley. Both of his fights lacked the enthralling nature of Pac-Man in his heyday turning respected opponents into knocked out punching bags, but they were solid wins and reaffirmed Pacquiao's status as one of the sport's elite.
To be clear, this style is not going to drive pay-per-view numbers like he did in his prime, and the whole notion of this will undoubtedly rile some Pacquiao fans. After all, Pacquiao's fights pack as much or more offense than anything Mayweather offers up, and Money is breaking earning records.
There is a huge difference, however. Money's defense is so masterful, it is actually entertaining. Plus, he's Floyd Mayweather, the master of self-promotion. This is a man who could turn a chess match into a pay-per-view event.
Meanhwhile, Pacquiao built his legend and massive appeal on his menacing power.
Although Pacquiao's evolving style is not going to help him boost his earning power, it will help him maintain his status as an elite draw. As long as Pacquiao continues to display elite ability, fans will turn out in droves to watch the legend.
The only way Pacquiao is going to be able to continue to prove elite is through his new focus on boxing.
Pacquiao's speed, combined with his still-solid power, makes him a formidable opponent. By utilizing this to work angles, maximize his opportunities and limit his opponents, he is extending his career.