Boxing
Fate of Pacquiao-Crawford fight to be known this week, says Arum
Whether the ballyhooed fight between Manny Pacquiao and Terence Crawford would push through will likely be known this week.
Top Rank boss Bob Arum hints an investor is willing to shoulder an enormous fee site which should cover the asking purse of Manny Pacquiao and Terence Crawford
Top Rank Promotions big boss Bob Arum bared this development as he hinted an investor, most likely from the Middle East, is willing to shoulder an enormous site fee which should cover Pacquiao's asking purse of $40 million, plus Crawford's $10 million.
"Somebody is willing to spend big money to get the Crawford-Pacquiao fight and the site fee, that then distorts everything," Arum told the podcast Barbershop Conversations.
Pacquiao was Arum's primary star for a long time before they parted ways and Crawford took over as Top Rank's main man.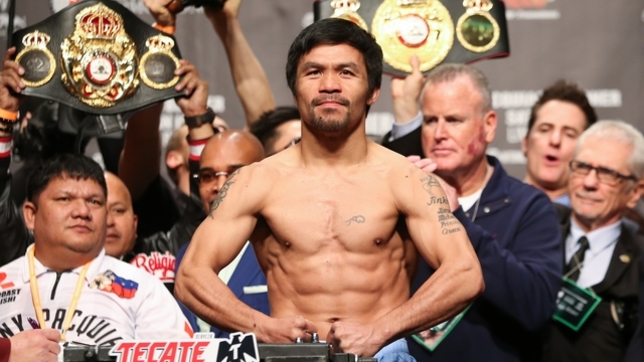 Alas, Crawford – the unbeaten World Boxing Organization welterweight champion considered to be one of the best pound-for-pound fights – lacks Pacquiao's charisma and is far from being a pay-per-view draw.
Pacquiao said last week he wants to tangle with Crawford and named his price.
Obviously, Arum used his vast network to reach out to moneyed boxing lovers who would want to see Pacquiao, the only eight-division world champion, in collision with Crawford, the three-division king who has knocked out his last 8 opponents.
If nobody comes up with the cash, Arum would settle for Shawn Porter, a two-time world welterweight champion, as Crawford's next opponent.
Crawford has listed Pacquiao as No. 1 on his hit list, followed by World Boxing Council and International Boxing Federation titlist Errol Spence, who, however, is not interested in unification.
Arum believes Crawford-Spence would do better on pay-per-view (PPV) but knows there is more money on Pacquiao-Crawford, especially "if the site fee materializes."
While Arum is working to make Pacquiao-Crawford happen within the year, Pacquiao is busy whipping himself into shape.
Pacquiao flew to General Santos City on Friday, February 19, to continue light training for whoever will share the ring with him.