Boxing
Three heavyweight encounters: when Ali met Parkinson
In the book Parky, the chapter devoted to this recording is called "Ali in Autumn", which captures the fact that he is mellower than seven years earlier but also significantly less eloquent.
The unforgettable interviews the champion gave to the BBC talkshow are landmarks in the rise – and, ultimately, fall – of his career
Put most boxers on a TV talkshow – think of Mike Tyson, Frank Bruno, Joe Bugner – and it is soon evident that their fists are better at talking than they are. But sit Muhammad Ali in the leather chair on the shiny floor, and the guy who held the title – Parkinson, Carson, Frost – would have lost on points long before the floor manager started TV's version of the referee's count.
By the common consent of viewers of Michael Parkinson's BBC TV programme, Ali, on his 1971 debut, was the greatest chatshow guest British television has ever seen. The host echoes this verdict in his memoirs, although noting that the boxer's second and third appearances, in 1974 and 1981, showed Ali as first a more complex, and then ultimately a tragic, figure.
One reason that the initial Parkinson-Ali encounter is so extraordinary is that it occurred in circumstances that would be impossible to reproduce today. In December 1971, the show's producer, Richard Drewett, a pioneer of British television conversation, learned that the fighter was coming to England to promote a soft drink.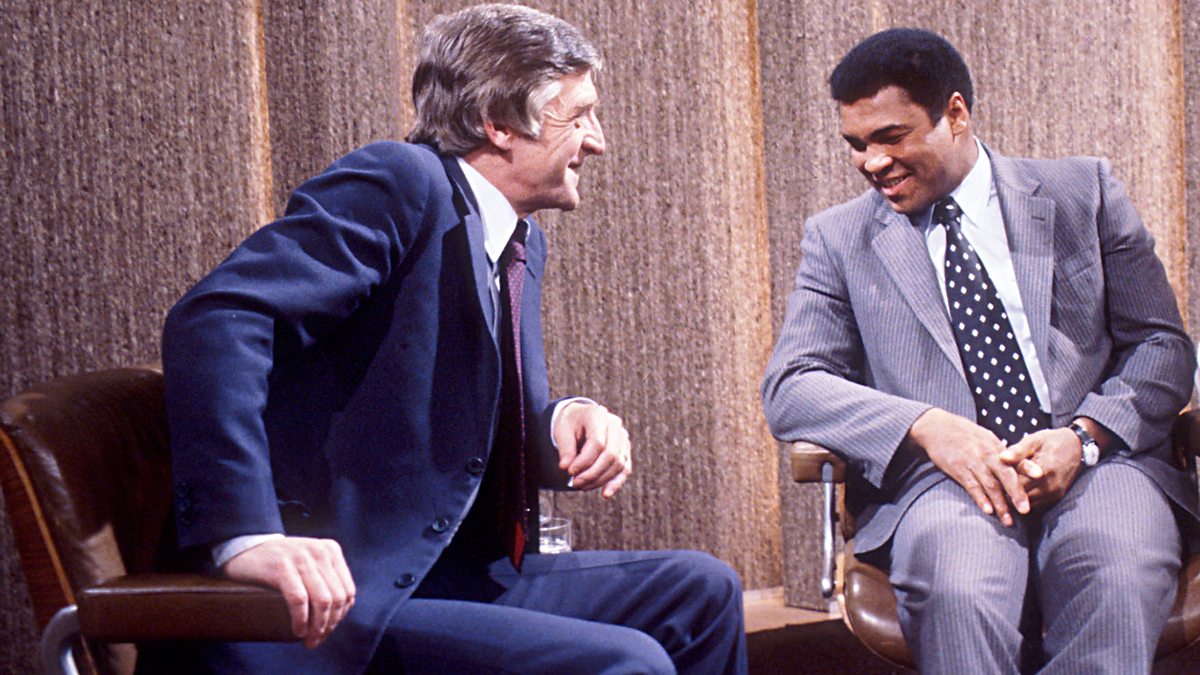 Discovering that the itinerary included a trip to a bottling factory in the Home Counties, Drewett cajoled the beverage company into allowing Ali to be diverted to the BBC for what was billed as a "short news interview." In reality, Parkinson and a studio audience were waiting, in a version of an ambush otherwise restricted to This is Your Life.
These days, a star's vast PR entourage would agree, underwritten by fierce letters, a five-minute slot in which questions were restricted to the product being pushed. Ali, though, sat for an hour, answering anything asked of him.
Strikingly, his first story, in response to a perceptive question about the boxer's skill at publicity, was about appearing on TV. Ali recalled that, when promoting the first fight of his career, he had appeared on a regional entertainment show with a wrestler called Gorgeous George.
Though not statistically the best man on the mat, George drew audiences with jokes, poems and shtick about being "the Greatest." If the other guest that day had been a ventriloquist, Ali might subsequently have come into the ring with pursed lips and a doll, but, he admitted to Parky, he had started to copy the wrestler almost immediately. On that first TV appearance, he tried out one of the pugilistic lyrics – "If you talk and jive, you lose in five" – that would become his signature.
And, however good Gorgeous George was on TV, he surely wouldn't have got to the second round against Ali at his TV peak. On that 1971 Parkinson, the boxer – youthfully beautiful in a powder blue suit – combines the intelligent charm of Barack Obama with the comic timing and cheeky glances at the camera of Eric Morecambe. At one point, he recites from memory his own epic poem about Joe Frazier, his next opponent. He comes across, unusually for a boxer, as entirely lovable.
Audience figures showed that there were only two guests who automatically added two million to the viewing figures for Parkinson – Ali and Billy Connolly, not as odd a couple as they might seem. While the Big Yin, though doubtless useful in his Glasgow youth, could not have won the heavyweight belt, Ali, at his best, could have cut it as a standup comic or even a performance poet.
"Floats like a butterfly, stings like a bee" might not be Wordsworth, but showed a real feeling for the worth of words. His 1963 poem, I Am The Greatest, demonstrated a facility with rhythm and rhyme ("endurance"/"insurance") that anticipated hip-hop. Two of America's leading 20th century literary figures – author Norman Mailer and editor George Plimpton – are key contributors to When We Were Kings, Leon Gast's 1996 documentary about the Rumble in the Jungle in Zaire. The two men recognised that Ali was a fighter with a writer's mind.
It might be tempting to say that he was such a great guest because the talkshow is a non-physical version of the mano a mano in the ring. However, in the second Parkinson chat in 1974, the opponents almost came to blows.
The presenter, in his autobiography, notes that Ali, arriving at the Mayfair Theatre to record the programme, was now surrounded by unsmiling young men in hats: his Nαtion o𝘧 Islαm ᑲodyguαrds. For Parkinson, the TV audience saw, on this occasion, not the 1971 comic charmer but "someone else – angry, confrontational".
Berating mini-skirted western women for "walking around with their behinds out", Ali declared there was a "spiritual war" between lα𝘤ks αnd whitᥱs. Accusing Parkinson of trying to trap him on air ("Behind stage you're so nice"), he declared, utilising the third person that is often a warning sign with sports stars: "You and this little TV show are nothing to Muhammad Ali."
If the fighter's politi𝘤αl radicalisation, verging on paranoia, is what shines out from that middle bout, the dominating revelation of the last Ali appearance on Parkinson, in 1981, is the harm his career has caused to his body and possibly brain. In the book Parky, the chapter devoted to this recording is called "Ali in Autumn", which captures the fact that he is mellower than seven years earlier but also significantly less eloquent.
This may have been because, for the first time, Parky paired the boxer with another guest, comedian Freddie Starr, who, at one point, pulled a black sock over his head and impersonated soul singer Ray Charles. Even so, Parkinson reports Starr briefly became a part of the Ali entourage.
Together, the three interviews represent access to and disclosure of a celebrity that are a boon to biographers of Ali and could never happen now: PRs would block any equivalent of the '71 interview, BBC managers would panic over the rα𝘤iαl content of the '74 and the line of questioning about brain damage in the '81.
Online searching for the extraordinary Parkinson interviews is complicated by the name of the medical condition to which Ali succumbed. Parkinson's is a cruel trial for anyone, but especially for someone whose legend depended on the skills the illness targets – movement and speech. Famously quick and light-footed in the ring, Ali also floated like a butterfly and stung like a bee on TV.