Boxing
Mike Tyson Takes Back His Comments on Anthony Joshua, Makes Irresistible Offer to the Brit
He's always gonna be the future man coz he's just a F.king baby
Mike Tyson is currently preparing for a fight early next year. Although Tyson has not revealed who he is fighting, he has started training for the same. 'Iron' Mike took some time to interact with some of the select media present at his gym as his trainer was wrapping his hand.
Elie Seckbach captured the moment on his YouTube channel.
At the same time, Seckbach asked 'Iron' Mike if he would help train Anthony 'AJ' Joshua. The former unified heavyweight champion is in search of a new boxing coach and came to the US to visit various gyms and trainers.
"Absolutely, what do you think coach? Absolutely, listen, you know what, I was talking sh*t man, but he's still a young guy, he's still got so much to learn you know what I mean? He's always gonna be the future man coz he's just a F.king baby. He started late in the game so he's still learning," said Tyson.
Anthony Joshua recently visited several gyms in the United States. This included Saul 'Canelo' Alvarez's gym where his former opponent Andy Ruiz Jr. trains alongside legendary trainer Eddy Reynoso.
Reporters caught Canelo and 'AJ' sharing a few laughs and light-hearted moments with each other.
While he is following Joshua's progress, 'The Baddest Man On The Planet' will have his focus on his own return as well.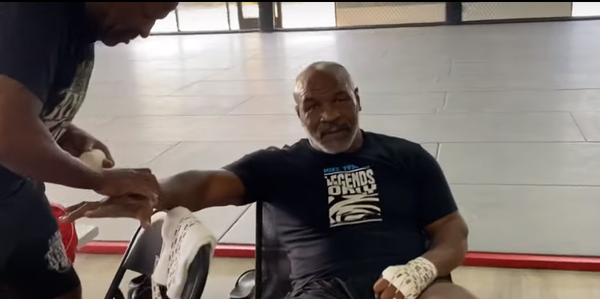 Mike Tyson confirms return to the ring in February 2022
'Iron' Mike revealed that he would be back in the ring early next year. "I am going to have a return fight in February and we are pretty sceptical about the opponent, but it will be a really stimulating opponent," he said.
Although Tyson has not confirmed his opponent yet, word around the grapevine is that he will be fighting Logan Paul.
The YouTuber turned boxer last fought earlier this year against Floyd 'Money' Mayweather in an exhibition match that brought in a huge number of PPV buys.
A fight between Logan Paul and Mike Tyson would attract a lot of attention and would sell well. It even has the potential to eclipse the 'Money' vs 'The Maverick' fight.
Who do you think Mike Tyson should fight next? What do you make of his offer to Anthony Joshua?